UMBC LSAMP RESPONSE TO COVID-19
To help facilitate the campus community transition to remote learning, the UMBC LSAMP program remains available to meet with STEM students. To set-up, a meeting to discuss your academic and professional interests, send an e-mail to lsamp@umbc.edu.
We will house resources to support students in their adjustment to remote learning below. Underneath the presented resources, you will find links to additional resources and our mission statement.
References: Kwantlen Polytechnic University Learning Centres, Christina Page, Adam Vincent, and the University of Florida
HELPFUL RESOURCES IDENTIFIED BY UMBC INTERNATIONAL EDUCATION SERVICES (IES)
Please select a section below to view more information
Discrimination, Stress, and Anxiety
CRITICAL QUESTIONING TO SUPPORT YOUR LEARNING
Learning in an online environment requires you to move beyond simple memorization of course concepts. To gain knowledge that will support you in your growth as a lifelong learner and in your future career, you will want to interact with course concepts deeply and in ways that are personally relevant to you.
One way of picturing deeper learning is Bloom's Taxonomy.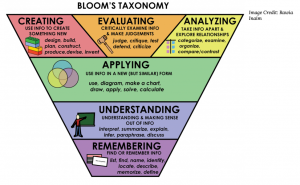 The levels of Bloom's taxonomy build upon each other. While you need to be able to remember key concepts, your courses will spend more time developing your ability to apply, analyze, evaluate, and create using this knowledge. As you encounter new concepts, you will want to use critical questioning to understand the concepts at all levels, moving from surface to deeper knowledge.
The following printable chart includes some questions that might be relevant at each level: Bloom's Cognitive Chart
ACADEMIC TIPS FROM THE UMBC ACADEMIC SUCCESS CENTER
We'll get through this together. Things may feel out-of-control right now.
You may be facing a lot of unknowns and disruptions. Try to be patient with yourself, your classmates, and your instructors during this time. Take care of your wellbeing first. Making a plan and adjusting your studying may help you feel even a little sense of control.
In this guide, we'll talk about:
• Staying organized
• Avoiding multitasking
• Making the most of video lectures
• Setting a schedule
• Trading your strategies for new ones
• Working with a group or team
• Staying connected to other people
Your study habits may need to change.
The full guide can be found at https://lrc.umbc.edu/files/2020/03/ASC-Academic-Resources-COVID-19.pdf
GUIDING FAMILY AND FRIENDS THROUGH YOUR REMOTE LEARNING EXPERIENCE
The University of Florida created a visual resource supporting first-gen students transitioning online!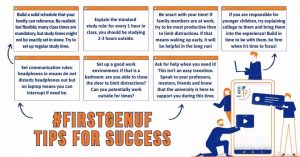 ____________________________________________________________________________________________________________________________________________
Louis Stokes Alliances for Minority Participation (LSAMP) program assists universities and colleges in their efforts to significantly increase the numbers of students matriculating into and successfully completing high-quality degree programs in science, technology, engineering and mathematics (STEM) disciplines in order to diversify the STEM workforce. Particular emphasis is placed on transforming undergraduate STEM education through innovative, evidence-based recruitment and retention strategies, and relevant educational experiences in support of racial and ethnic groups historically underrepresented in STEM disciplines: African Americans, Hispanic Americans, American Indians, Alaska Natives, Native Hawaiians, and Native Pacific Islanders. The Meyerhoff Scholars Program is a key component to the implementation of LSAMP at UMBC.
The LSAMP Program at UMBC is funded through an award from the National Science Foundation (Award #1002566). Any opinions, findings and conclusions or recommendations expressed in this material are those of the author(s) and do not necessarily reflect the views of the National Science Foundation (NSF).
---
Please note: UMBC is committed to creating an accessible and inclusive environment for all students, staff, and visitors. If you have difficulties accessing any of the materials on our site, please contact us so that we can provide an alternative format and remedy any accessibility challenges.